We have many activities and our main activity is the wonderful guided moose feedings, where you can get close to the moose.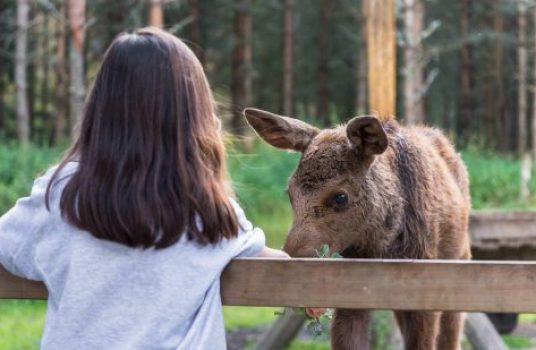 What to expect on a feeding
During the moose feeding times you have the best chance to see these amazing animals. Meet and greet our moose. The moose will get served branches, twigs or snacks depending on what their moose keeper decide is on their menu. The feeding usually lasts around 30 – 40 minutes. The feeding area is a smaller area located near the Store/house, which makes it incredibly accessible with wheelchair and gives you excellent photo opportunities. The moose decide themselves when to enter the feeding area. Therefore amounts of moose can variate during feedings.
Please note the we in total currently have 10 younger/smaller sized moose (1-4 years old), (6 females and 4 males), in our 10 hectare reserve.
4 of our females have recently gotten new calves in May/June. Due to aggression to our other moose they have to get fed on separate locations and can unfortunately not attend the normal feedings with our 1 year olds.
Trails
There are some public trails around the reserve. These can be started from the parking area and requires no ticket. However, seeing moose on these trails is highly limited due to a large area and dense forest. The best area to see them in is in the feeding area.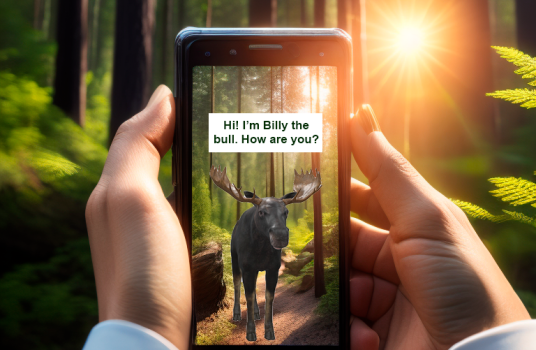 AUGMENTED REALITY EXPERIENCE MAP
Before or after visiting the moose feeding we recommend walking around the moose park and exploring the nature in our newest activity this year: Augmented Reality experience map. Just like Pokémon Go, we have many info points geo-located around the park. Go to the points to read, explore and play! . Wish to explore Augmented Reality in and around our moose park? Now you can! Discover and learn in an interactive way for both adults and children. The map offers many info points and you can choose how many you wish to explore. The price is pr. group access so if you are ex. 4 persons/family together you only buy 1 access (150 SEK). Language is currently only in English – Swedish is coming soon.
Explore our new nature guidings around the moose park in the beautiful Swedish nature with information about local history, wildlife and flora, sustainability and of course moose.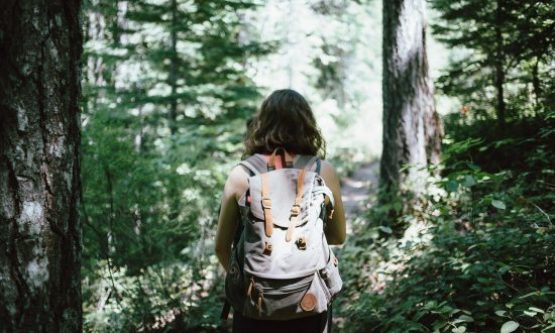 NATURE GUIDING: THE CURIOUS
Are you curious on nature? We invite you to join us on a guided 1 hour hike that takes you around our moose park. We will walk by an ancient burial mound, the tranquil lake "Skogan öga" and up the steep hills to the scenic spot. The guide will inform about local history, wildlife, flora, sustainability and moose on small stops on the way.  Children are very welcome on nature guidings but we recommend the 1 hour "curious" guiding if they are under 10 years. 
Ancient burial mound
Skogens öga lake
Scenic spot on steep hill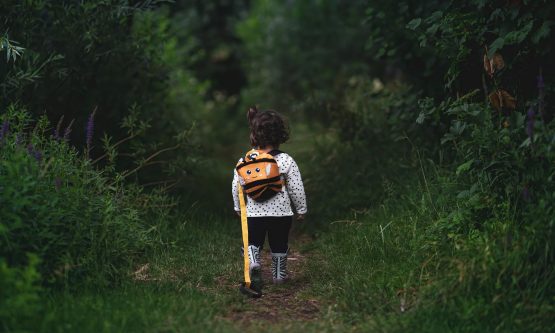 We welcome all curious kids on a 45-60 min. hour walk (1,5 km) with a nature game. The walk is on kid-friendly terrain (but adults must join for safety) and will encourage exploration of the forest. Kids of all ages are welcome and the game kit is available in level 1 (0-8 years) and 2 (9-13 years). The nature game kit is handed to all participants at the start of the walk. The game is a finding nature's treasure game where you get different points for different items found, seen or heard on the walk.
Ancient burial mound
Skogens öga lake
GOOD TO KNOW ABOUT NATURE GUIDING
Language: English is the default language due to different nationalities but it is also possible with Danish/ w. little Swedish (The nature guide is Danish).
Children: Children are very welcome on nature guidings but we recommend the 1 hour "curious" guiding if they are under 8 years. Children under 14 can not attend nature guidings without guardians. 
Footwear: Good footwear is recommended for both guidings but normal shoes will work for the 1 hour "curious" guiding. Bring dry socks and waterproof footwear for the 2 hour hike if possible. 

Strollers: We do not recommend strollers on either hikes due to steep hills.
NOTE! The nature guiding is a separate activity than moose guiding and needs to be booked in advance.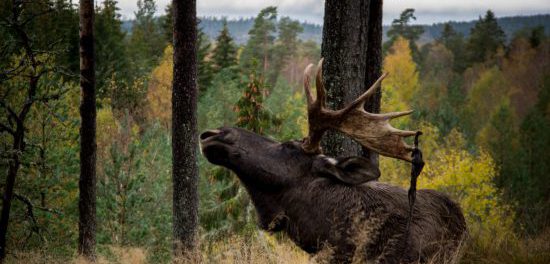 Are you still curious on moose? You can read and look at moose facts in our little fact forest 100 meters away from the moose feeding area.  
Fact forest is made with nature in mind. It has five information stations where you can test your knowledge about moose and learn more about specific topics including diet, mating, tracks, horns and poop. 
Do you know how much a moose can eat every day or how moose tracks look so you can spot them in the wild? How does moose poop look and how much does a moose shit daily? You will get all the answers in Fact forest! There is also a cool fact tree full of moose facts. 
NOTE! CLOSED UNTIL 15/3! Fact forest is made in Swedish and English. Please help us take care of the fact forest and don't cross the ropes or touch the items except the big moose food bag.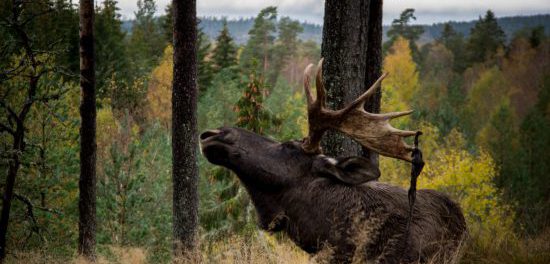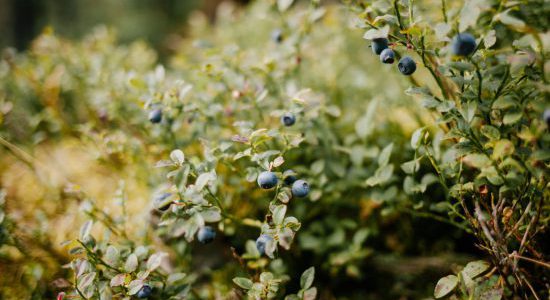 Feel free to explore our nature and surrounding areas and forage many delicious edibles from the forest. 
Let your instincts and curiosity take over and guide you through our nearby nature that offers many different gems. The whole park and area around is covered in a thick and dense layer of blueberry bushes and you are welcome to pick some and taste the amazing berries. We also have smaller areas of lingon berries, which is a famous Swedish berry made to jam and used for the dish "Kötbullar" (meat balls). You can also find the more rare berry called cloudberry if you take the walk around the park. It is also possible to find various mushrooms in the forest. 
NOTE! Foraging in the nature is on your own. It is your responsibility to know what to pick and what to leave and if you are in doubt please search for information before you pick the wrong thing. Help us keep our nature flourishing by foraging with care and respect for nature to be able to regrow the plants for the next season. Don't take plants up with roots or break of branches.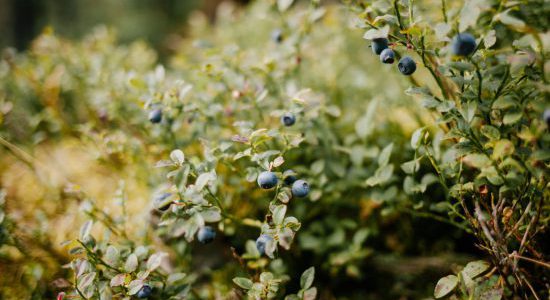 As animal lovers, we cherish the wildlife in and around our park. We have a selection of identified, typical Swedish animals which you might be lucky to spot but there is no guarantee. If you wish to get a chance to see the wildlife, we suggest you visit our park in the low season as most wildlife is shy and our high season is very human busy. Please let us know if you see other animals or species so we can update our list!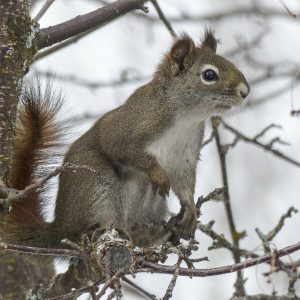 We have a couple of squirrels living in the park and around the house. Our favorite squirrel is Mimi, who we have known since she was a baby. We feed squirrels at their squirrel buffet.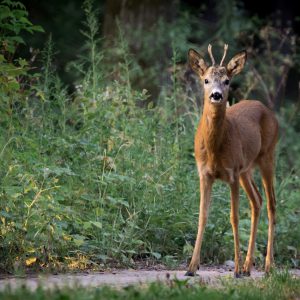 We see many deer tracks in our park and they often wander close to the moose fence. We are wondering if they are having a family meeting with far out relatives.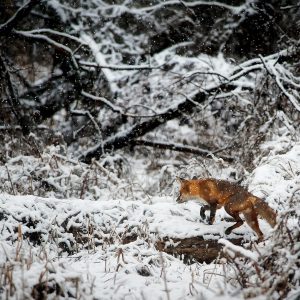 The red fox sometimes sneaks its way into the moose reserve. The moose do not like foxes but the fox does not pose any threat. We always know when we have a sneaky fox guest.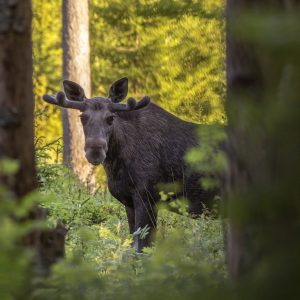 We have a couple wild moose walking around the park and sometimes inside the visitors area during the night. We have witnessed our moose Molly and a wild female having a meeting.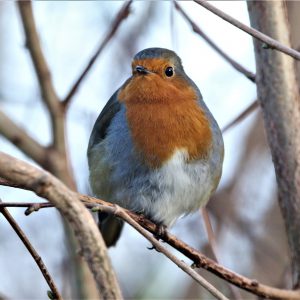 This is our cutest bird with its very round shape and flashy red breast. The robin is a curious bird that likes searching the ground for worms doing gardening work or when the moose dig holes.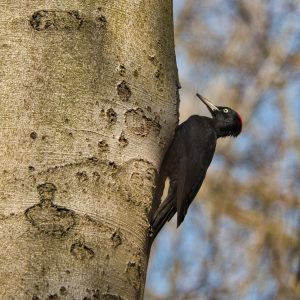 Our woodpecker is very active and loves our big oak tree by the house. We often hear how its pecking in the tree. If you know what to look for you might spot it but it hides well under the branches.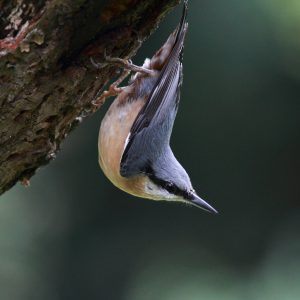 One of the funniest small birds in the park is the nuthatch with its "bandidos" look. It can forage when descending trees head first, as well as when climbing and it always steals from the squirrel buffet.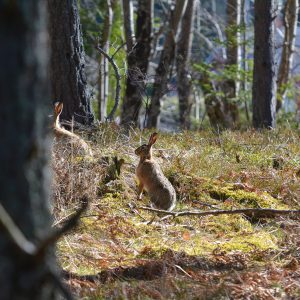 It is no wonder that we have small visitors like the hare thanks to the dense forest area that shelter it from air born predators. Our selection of wild clover, grass and dandelion is tasty hare food!
A colorful little bird with a blue head and feathers while the yellow chest stands in beautiful contrast. It mainly eats insects but is curious and intelligent enough to learn and adapt to new food sources.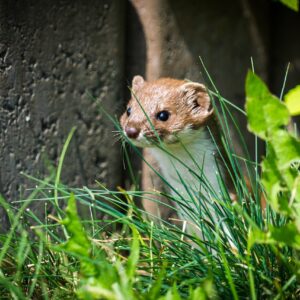 This cute, small weasel has a slender and long body. It feeds on mouse, small rodents and bird eggs. We have a pair that lives under our tool sheds and they peek curiously out and say hello.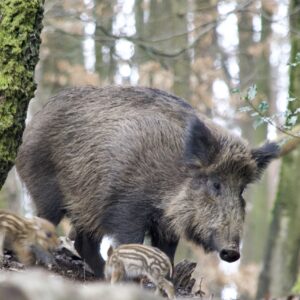 Behind our moose park we have a big forest where there are active wild boars. They leaves traces like digging in the ground and big poops! Wild boars are considered shy but dangerous if encountered.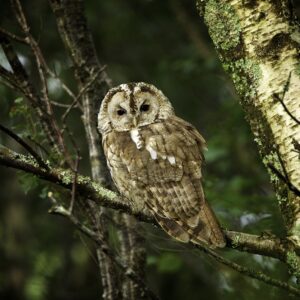 Sweden's most common owl has also shown itself here in our park. It was actually pretty curious and flew into our moose store and sat on top of a stuffed beaver for hours. We rescued it safely out in the wild.
There are two different public hikes in the area. Choose between them or combine them for a longer hike. Please see our maps around the park or below and don't hesitate to ask our staff for further information about the hikes.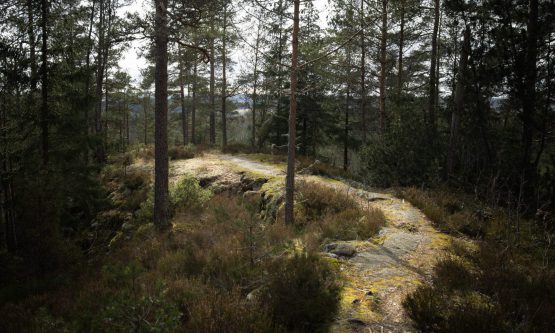 Enjoy a great walk around our 10 hectare moose forest reserve.
Explore the calming nature and see the beautiful view from the scenic spot on top of the little mountain. Enjoy the big variety in nature going from pine forests to open areas of heather, flowers and moss. Be aware of steep hills on this hike.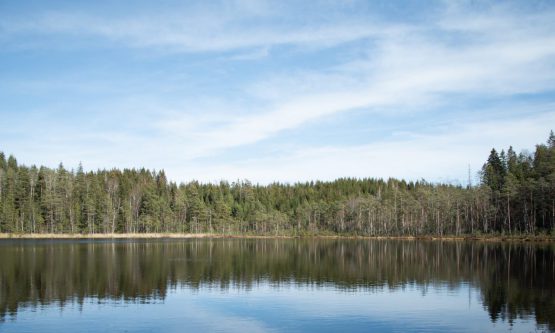 Skogens öga (forest eye) is a walk to a lake surrounded by cliffs.
The lake offers a peaceful and quite atmosphere thanks to its round shape quite atmosphere thanks to its round shape completely covered in trees and hills. Go through an untouched nature on the way to the lake. Be aware of cliffs on the way.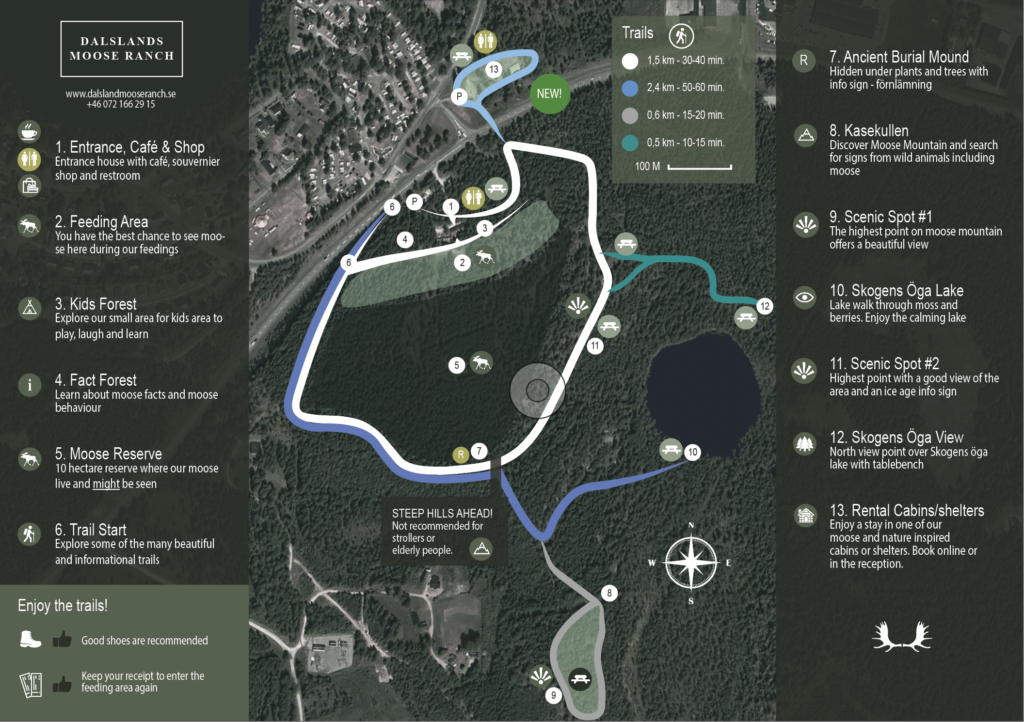 TRESTICKLAN NATIONAL PARK
Tresticklan is the biggest roadless and uninhabited forest area in southern Sweden.
About 20 minutes from our moose park is Tresticklan National Park. With an area of 30 square kilometer, the national park is the largest roadless and uninhabited forest area in southern Sweden. It is an amazing nature experience and we highly recommend planning to combine a visit to our park with this wonderful national park. There are different hikes and entrances but no matter where you go, we guarantee you that you will enjoy yourself!
We look forward to meeting you in our moose park!