Visit our Moose Café and enjoy a various selection of waffle, cakes, snacks and beverages.
You can sit on our benches outside the café, in our cosy Swedish style timber grill house or on a bench at the moose area. The café mainly offers Belgian waffles, cakes, buns, cookies and mini sandwiches. Our big waffle menu allows you to explore different flavors – all inspired by the forest, flowers and animals who live it in. Our drinks include coffee, tea, hot chocolate and various cold sodas, water and juices. 
NOTE! Depending on the season and covid-19, the café has a various selection. If you have any specific wishes please let us know in advanced so we can prepare. Allergy information is available at the café.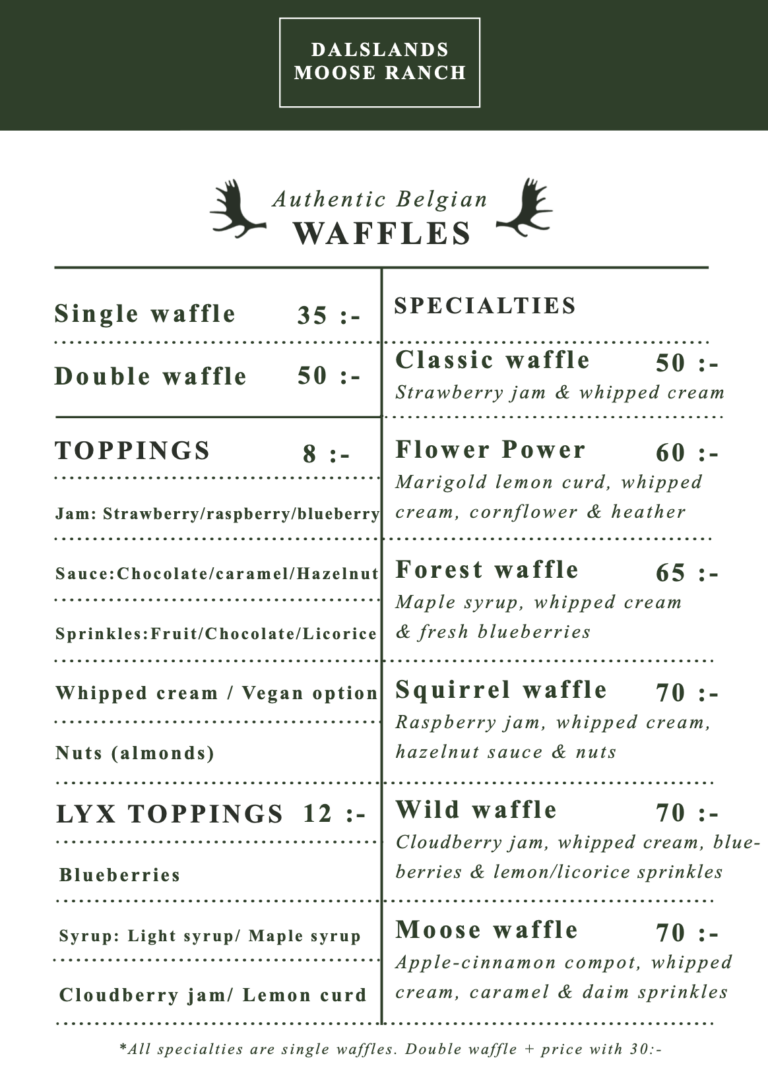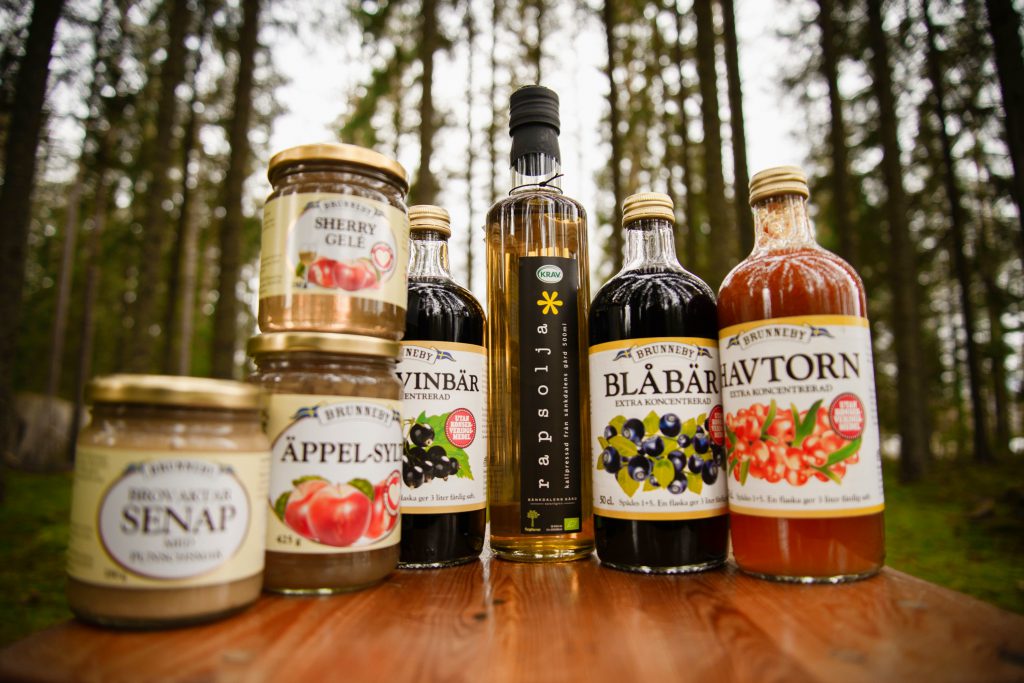 Taste our delicious, Swedish delicacies from "Brunneby Musteri"
We love serving these favorites in our café and many guests also buy them home for  their own enjoyment or as tasty presents. Brunneby Musteri is an old family business and they describe their work as following: 
"To date, we have been making fruit and berry products for more than 70 years. In autumn, we press amazing amounts of apples and in summer we press strawberries, blackcurrants and raspberries amongst other things. Our motto is natural, nutritious and delicious." We sell Brunneby's different products including lemonades, jams, siryps and much more. 
We recommend a visit to the farm if you are travelling around Sweden. It is 4 hours by car from our park and you can find further information here.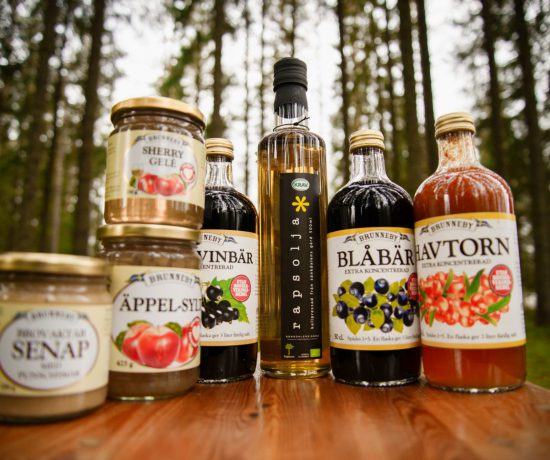 Do  you want a homemade, Swedish style cake to eat where ever you want? Then our cake takeaway is for you! 
See our different cakes below and contact us if you wish to order or customize a cake. Most of our cakes are made with forest berries and has a decorative link to the forest or nature. Some prices can depend on your wished taste combinations.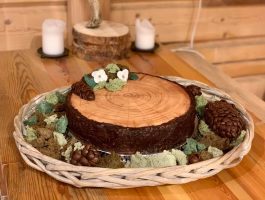 Big cake covered in marcipan and decorated as a cut off log. Sides are covered with edible green moss cake and choco pine cones. 
Price from 139 SEK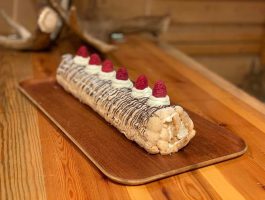 Classic Swedish hazelnut meringues filled with fresh fruit and whipped cream. Covered in chocolate and raspberries.
Price: 129 SEK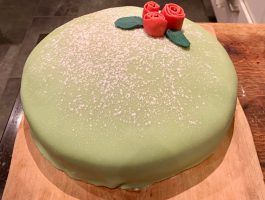 A classic with a royal history. A cake with three layers of raspberry, vanilla cream and whipped cream in green marcipan. 
Price: 119 SEK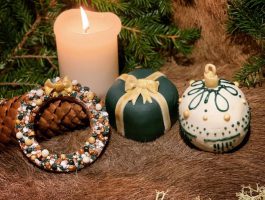 Portion cakes are made in seasons and are all different. They are delicious and decorated very nicely. This is our christmas cakes.
Price from 39 SEK / pr. cake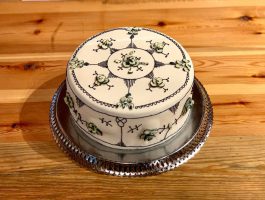 Pattern cake (Royal Copenhagen)
Hand decorated cake that is build up with chocolate and vanilla cake and a heavy buttercream covered in marcipan/fondant. 
Price from 129 SEK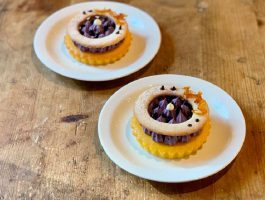 Portion blueberry and lemon pies with blueberry jam and ganache and a butter biscuit with vanilla taste and caramel decoration.
Price from 39 SEK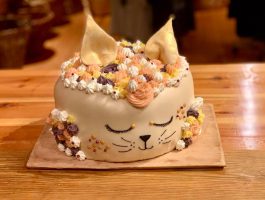 This huge cat cake has seven layers of hazelnut, chocolate, vanilla and raspberry covered in a lemon butter cream and marcipan. 
Price from 149 SEK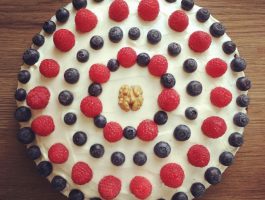 Carrot cake with forest berries
Classic carrot cake with a moist cake and a thick layer of cream cheese frosting and beautiful forest berries on the top. 
Price: 99 SEK
Write a request or order a cake down below. You can also contact us on +46 72 166 29 15. 
Remember to order your cake min. 3 days in advance. You can pick up your cake at the moose park at an agreed time.