Visit in low season: August 23rd – May 30th
From 6th of September the park is only open for pre-bookings online. See available times on our booking page using the calendar. It is only possible to book min. 24 hours before your visit.
Important!
During September-October the moose enter Brunst/mating time.Regular moose feeding can not  be guaranteed and the amount of visible moose can vary every day. The ticket price will also vary depending on the day and amount of moose. 
Visit in high season: June 1st – August 22nd
We are open Everyday. Feedings are at 11, 13 and 15. The park opens at 11 and closes at 16.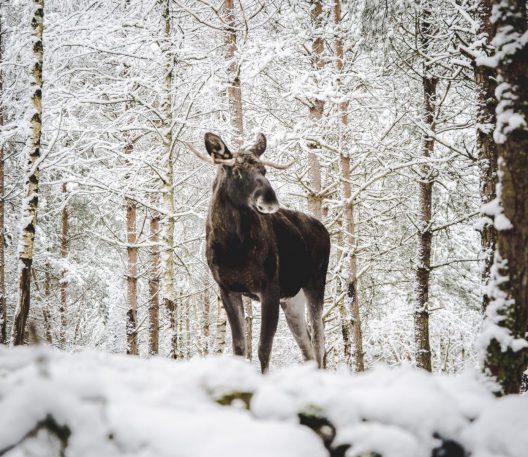 Vuxna 
Älgmatning & entré: 100 SEK
Naturguiding (1 timme): 100 SEK
Barn 4-13 år 
Älgmatning & entré: 50 SEK
Naturguiding (1 timme): 50 SEK
Barn 0-3 år 
Gratis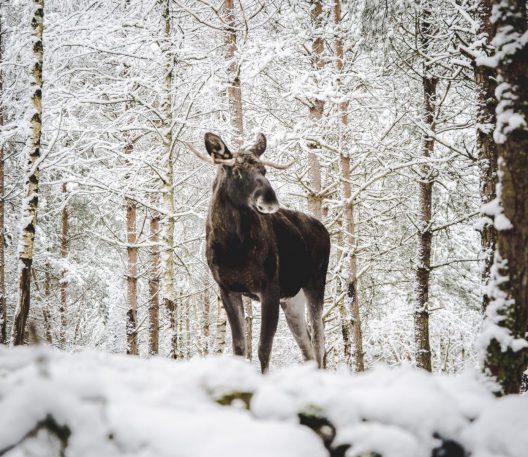 Different seasons gives different moose and nature experiences and you can choose your favorite season below. The amount of guests is our general statistics but may vary and be more unpredictable due to Covid-19.

The winter is the least busiest which is unfortunate because this is the moose's favorite season. Moose are cold climate animals and love playing with each other in the snow. The ponds are frozen so you might see a "bambi on ice" moose moves.
Guests pr. feeding: 2-15 guests.   
The beautiful spring is less busy and some moose are growing their big, pregnant stomachs while others grow out new antlers. In late spring the moose calves are born but the mother will keep them hidden in the reserve for their protection.
Guests pr. feeding: 5-50 guests.   
Summer is our busiest season with a couple of thousand of guests enjoying the great summer weather watching moose cooling down in their moose pond. The moose can have less appetite on hot days and might not all join feedings. 
Guests pr. feeding: 10-150 guests.   
Early autumn is less busy and the moose are less warm and a little more active. The drama is high thanks to the mating season in September-October which varies due to unstable weather. We close the weeks where mating can be too aggressive.
Guests pr. feeding: 5-50 guests.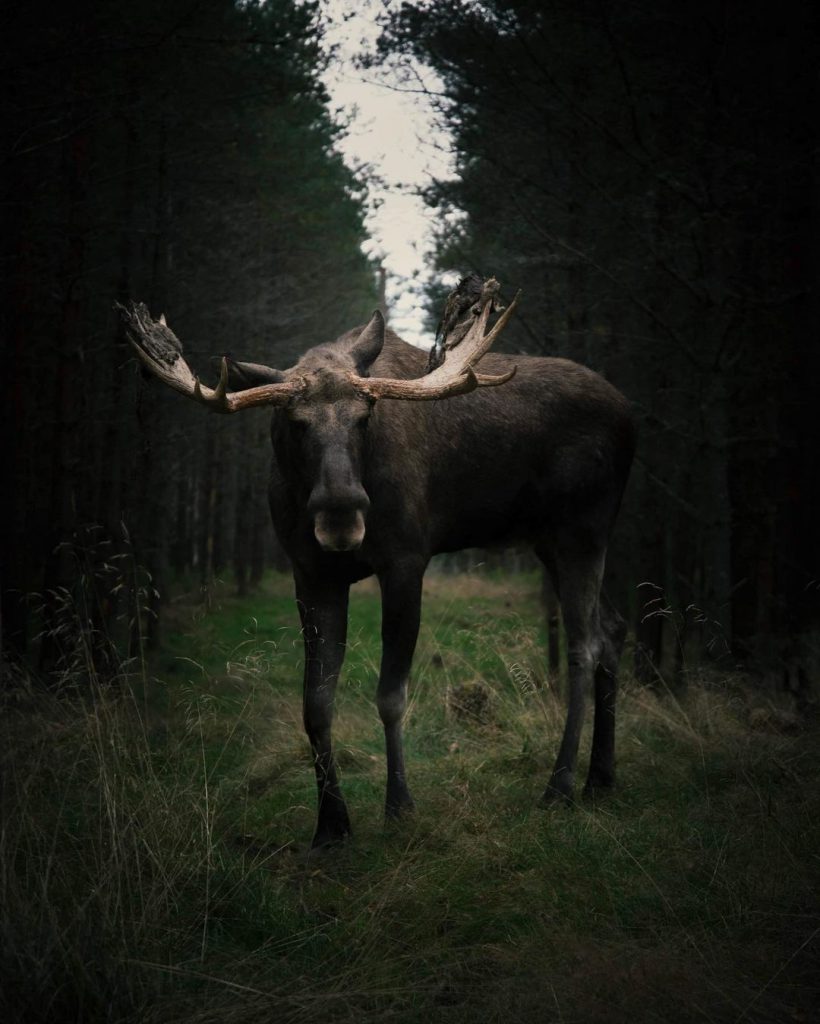 På grund av COVID-19-situationen har vi gjort vissa förändringar och det är viktigt att du läser denna information innan ditt besök. 
Bokning krävs för att besöka vår park

Om du vill se älgar och besöka parken måste du boka en älgmatning. Om du bara bokar naturguidning kommer vi att börja gå utanför parken. 

Anländ gärna i tid för din bokning men inte tidigare än 10 min. innan din tid på grund av att andra gäster kan ockupera inomhusområdena 

Max. antal gäster inomhus: 8 (+ 9 i grillstugan) 

När älgmatningen börjar låser vi ytterdörren dels för att butiken är obemannad och också för att förhindra att andra gäster kommer in och tar vårt max. antalet gäster för högt

If you wish food you can pre-order from our café, otherwise the selection in the café is limited to help fight food waste – go to our café page or order at checkout 

Ta med ditt bokningskvitto på telefon eller e-post
Du kan läsa om våra Covid-19-initiativ nedanför detta avsnitt. Tack för din förståelse under dessa tider!
Vi har begränsningar från regeringen för grupper över 8 personer inomhus(+ 9 i grillstugan) eller 1 person pr. 10 m2. På grund av detta kan vi tvingas ändra längden på varje utfodring och rotera gästerna (högsäsong). Utomhus är det max. 150 personer. Under lågsäsong måste alla gäster boka guidningar och det gör det lättare för oss att följa reglerna. 
Vi försöker hålla alla gäster och personal nöjda och säkra genom att: 
Ha hälsoråd på platser i parken

Uppmuntra alla att desinficera vid ankomst till parken och innan de går in till älgarna

Att ha handdesinfektion tillgänglig på många ställen både inomhus och utomhus

Att ha en handtvätt utomhus för kortare toalettköer

Desinficerar alla gästplatser som dörrhandtag och toaletter dagligen

Ingen mer självbetjäning i kaféet  

Oftare rengöring

Roterar luften i inomhusbutiken 

Har en stor plastskärm i kassan
Hjälp oss att hålla avstånd och följ hälsorådgivningen.
Tack så mycket!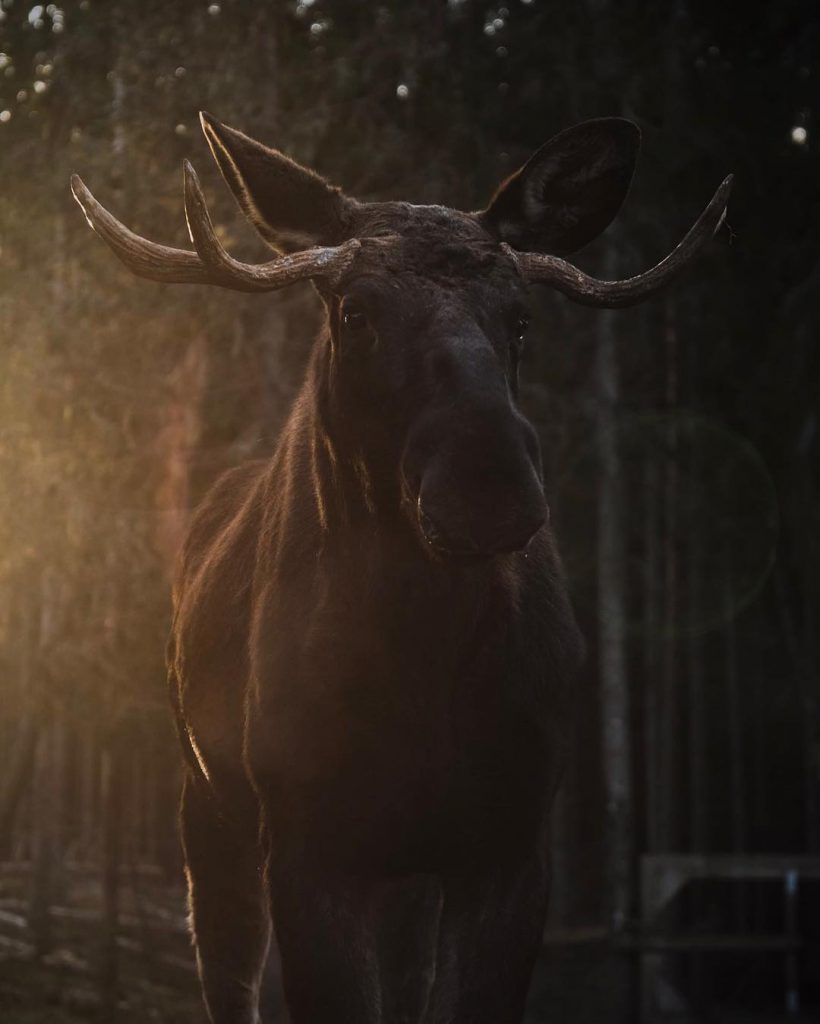 Ready for your moose experience?