OPENING HOURS 2023 (updated 1 september)
Visit in low season: 
(booking required)
Mating season: During September and October our moose mating season takes place. We adapt our feedings and guidings to the daily activity level of the moose as best as possible with both the experience and safety in mind. Our feeding area might be closed off due to safety but guidings will take place around the park as much as possible. 
September 1 – December 30th.
From these dates the park is only open for pre-bookings online. See available times on our booking page using the calendar. It is only possible to book min. 24 hours before your visit.
Visit in low season: January – June 15th
From these dates the park is only open for pre-bookings online. See available times on our booking page using the calendar. It is only possible to book min. 24 hours before your visit. The park opens at 13:00 and closes at 15:00.
Visit in high season: June 15st – August 30nd
We are open Everyday. Feedings are at 11, 13 and 15. The park opens at 11 and closes at 16. It is open for both bookings and drop-ins.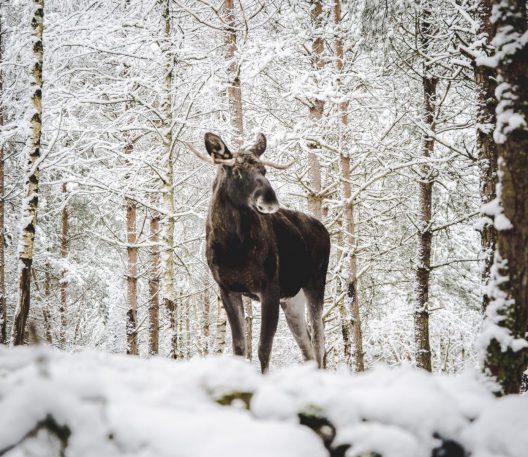 Adults 
Moose feeding + entrence: 130 SEK                                                        
Children 4-13 years 
Moose feeding + entrence: 70 SEK
Children 0-3 years 
Free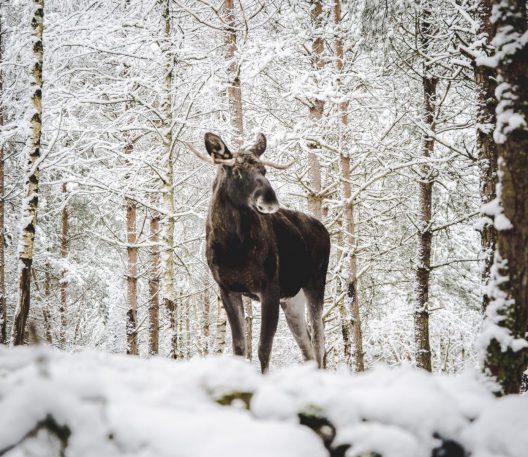 The ticket gives you access to:
Feeding area (Small area where moose are being fed)
Participating in moose feeding with guide.
Kids forest play area (Opens June 15)
Fact forest (opens June 15)
Activity folder/map (Starting June 15)
The ticket is valid for 2 days in a row if booked online. (Starting June 15)
There are some public trails around the reserve. These can be started from the parking area and requires no ticket. However, seeing moose on these trails is highly limited due to a large area and dense forest. The best area to see them in is in the feeding area.
Please note the we in total currently have 10 younger/smaller sized moose (1-4 years old), (6 females and 4 males, in our 10 hectare reserve.
Click on the link below to see more information on the moose we have.
Different seasons gives different moose and nature experiences and you can choose your favorite season below. The amount of guests is our general statistics but may vary and be more unpredictable due to Covid-19.

The winter is the least busiest which is unfortunate because this is the moose's favorite season. Moose are cold climate animals and love playing with each other in the snow. The ponds are frozen so you might see a "bambi on ice" moose moves.
Guests pr. feeding: 2-15 guests.   
The beautiful spring is less busy and some moose are growing their big, pregnant stomachs while others grow out new antlers. In late spring the moose calves are born but the mother will keep them hidden in the reserve for their protection.
Guests pr. feeding: 5-50 guests.   
Summer is our busiest season with a couple of thousand of guests enjoying the great summer weather watching moose cooling down in their moose pond. The moose can have less appetite on hot days and might not all join feedings. 
Guests pr. feeding: 10-150 guests.   
Early autumn is less busy and the moose are less warm and a little more active. The drama is high thanks to the mating season in September-October which varies due to unstable weather. We close the weeks where mating can be too aggressive.
Guests pr. feeding: 5-50 guests.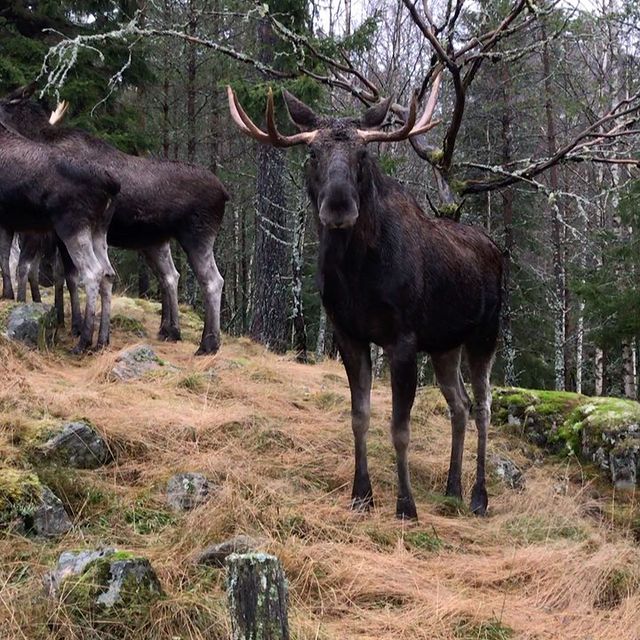 Due to the COVID-19 situation, we have made some changes and it is important that you read this information before your visit. 
Booking required to visit our park
If you would like to see moose and visit the park, you must make a reservation for a moose feed. If you only book a nature tour, we will start walking outside the park. 
Please arrive in time for your booking but no earlier than 10 minutes before your appointment due to other guests occupying the indoor areas 
Max. Max. number of guests indoors: 8 (+ 9 in the barbecue hut) 
When the moose feeding starts, we lock the front door partly because the shop is unmanned and also to prevent other guests from entering and taking our max. number of guests too high
Bring your booking receipt by phone or email
You can read about our Covid 19 initiatives below this section. Thank you for your understanding during these times!
We have restrictions from the government for groups over 8 people indoors (+ 9 in the barbecue hut) or 1 person per 10 m2. Because of this we may have to change the length of each feeding and rotate the guests (high season). Outside it is max. 150 people. During the low season, all guests must book guides and this makes it easier for us to comply with the rules. 
We try to keep all guests and staff happy and safe by: 
Having health advisories in places in the park
Encouraging everyone to disinfect on arrival at the park and before entering the moose
Having hand sanitizer available in many areas both indoors and outdoors
Having an outdoor hand washing area for shorter toilet queues
Disinfecting all guest areas such as door handles and restrooms daily
No more self-service in the café  
More frequent cleaning
Rotating the air in the indoor shop 
Have a large plastic display at the cash register
Help us keep our distance and follow health advice.
Thank you very much!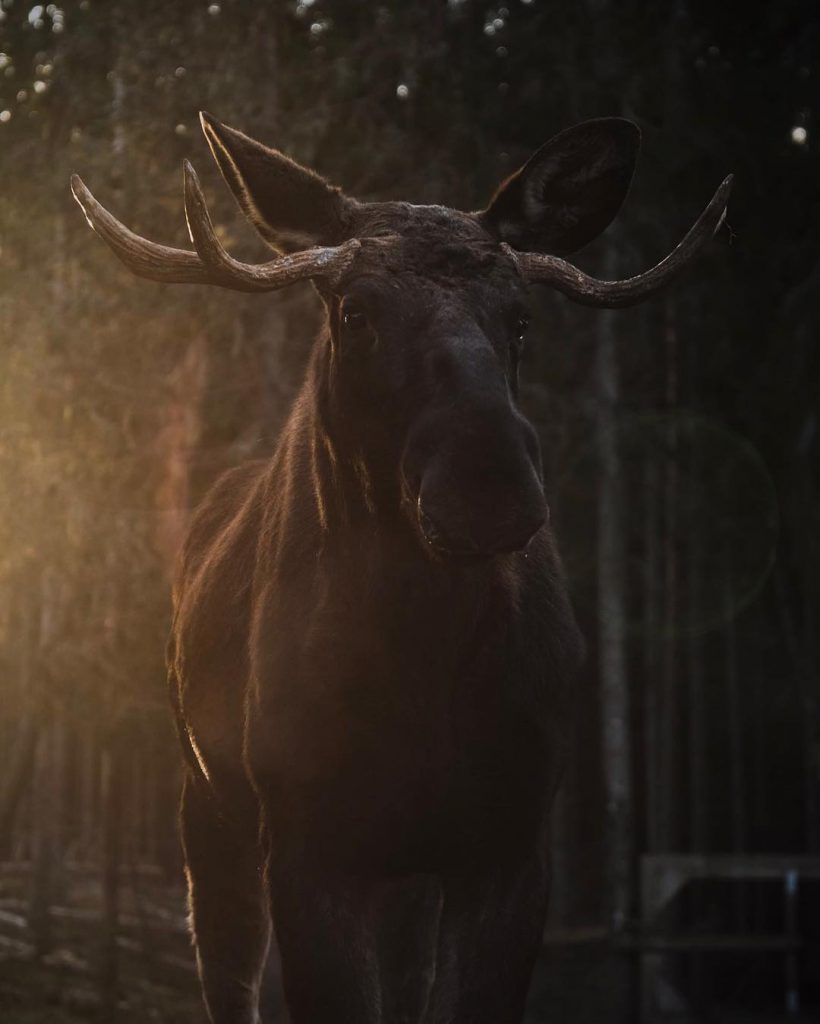 Ready for your moose experience?