Visit in low season: September 1st – May 30th
We are open everyday except Tuesday. Feedings can be booked from 13-17. The park is only open for bookings because of Covid-19 and the max. of 8 prs. in each group. Please book min. 24 hours before to your visit. 
Visit in

high season: June 1st – August 30th
We are open Everyday. Feedings are at 11, 13 and 15. The park opens at 11 and closes at 16.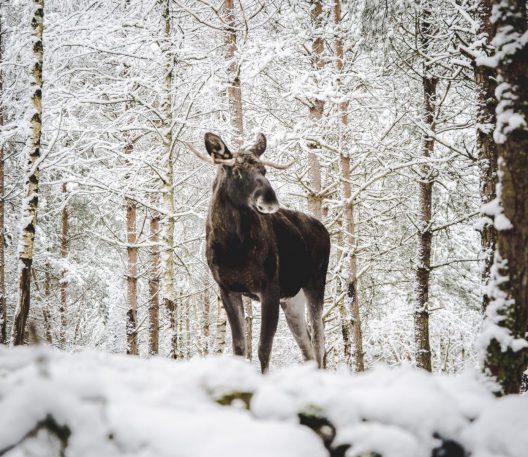 Adults 
Moose guiding: 100 SEK
Nature guiding (1 hour): 100 SEK
Children 4-13 years 
Moose guiding: 50 SEK
Nature guiding (1 hour): 50 SEK
Children 0-3 years 
FREE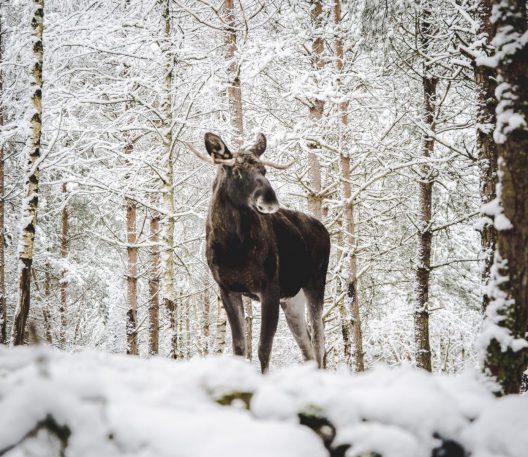 Different seasons gives different moose and nature experiences and you can choose your favorite season below. The amount of guests is our general statistics but may vary and be more unpredictable due to Covid-19.

The winter is the least busiest which is unfortunate because this is the moose's favorite season. Moose are cold climate animals and love playing with each other in the snow. The ponds are frozen so you might see a "bambi on ice" moose moves.
Guests pr. feeding: 2-15 guests.   
The beautiful spring is less busy and some moose are growing their big, pregnant stomachs while others grow out new antlers. In late spring the moose calves are born but the mother will keep them hidden in the reserve for their protection.
Guests pr. feeding: 5-50 guests.   
Summer is our busiest season with a couple of thousand of guests enjoying the great summer weather watching moose cooling down in their moose pond. The moose can have less appetite on hot days and might not all join feedings. 
Guests pr. feeding: 10-150 guests.   
Early autumn is less busy and the moose are less warm and a little more active. The drama is high thanks to the mating season in September-October which varies due to unstable weather. We close the weeks where mating can be too aggressive.
Guests pr. feeding: 5-50 guests.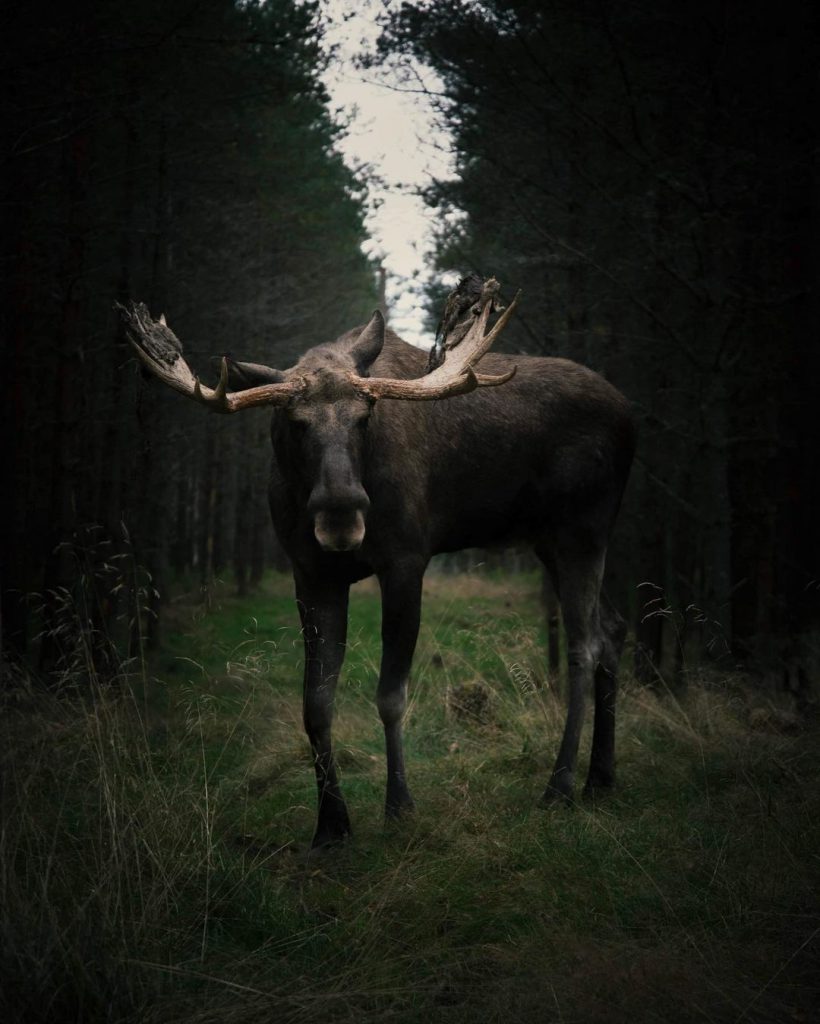 Due to the COVID-19 situation we are changing the way our park normally works and it is important you read this information before your visit. 
Booking is required for visiting our park

Please note that if you wish to see the moose and visit the park you have to book a moose feeding. If you only book nature guidings we will walk from outside the park. 

Arrive in time for your booking but not earlier than 10 min. before your time due to other guests might occupy the indoor areas 

Max. amount of guests indoors: 6 

When the moose feeding begins we will at most time lock the front door to prevent other guests from entering and bringing our max. amount of guests too high

If you wish food you can pre-order from our café, otherwise the selection in the café is limited to help fight food waste – go to our café page or order at checkout 

Please bring your booking receipt on phone or email
You can read about our Covid-19 initiatives below this section. Thank you for your understanding in these different times!
We have restrictions from the government of groups over 8 persons or 1 person pr. 10 m2. Due to this we can be forced to change the length of each feeding and rotate guests around (high season). In low season all guests must book guidings and this makes it easier for us to follow the regulations. 
We try to keep all guests and staff happy and safe by: 
Having health advise spread around the park

Encouraging all to use disinfection upon arrival to the park and before engaging with the moose

Having hand disinfection available in many places both indoor and outdoor

Having an outdoor hand washing for shorter toilet lines

Disinfecting all guest hot spots like door handles and toilets daily

Having no more self-service in the café  

Cleaning very frequently

Rotating the air in the indoor store 

Having a big plastic protection screen at the cash register
Help us keep distance to each other and follow the health advice.
Thanks!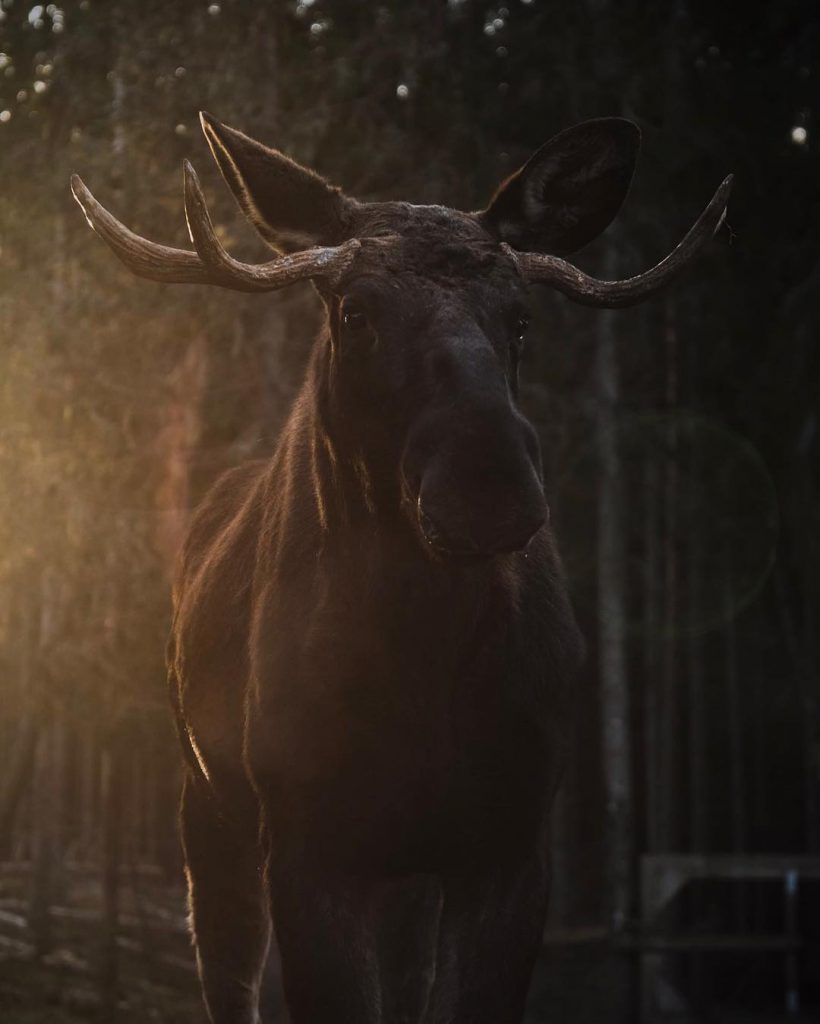 Ready for your moose experience?