Time spent with animals and in nature is never time wasted.
Meeting moose, known as the King of the Forest, is a grand event. Moose are large and majestic, with something special and ancient about them that have always fascinated people. When visiting us we guarantee that you will see and learn more about moose and get a unique contact with these animals!
Visit our moose park and enjoy meeting our animals and spending time in our beautiful nature surroundings.
Do you want  to meet our moose? Learn more about what to expect of a moose guiding and feeding.
Do you wish a longer visit in our park? Join our nature guiding on a hike! Read the details here.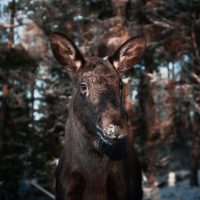 "We had an amazing time. We booked the moose feeding and the walk in the forest. We learned so much and the team is very friendly, knowledgeable. We had a great time!"
Our sustainable initiatives
We do many projects and try to adapt our work methods to be as sustainable as possible so our moose and planet will remain.
Moose and climate change​
Moose face a triple threat with our changing environment. Read about how the king of the forest is impacted by climate change. 
Explore and read about all our moose that you can meet in the park when you visit us. You can also see a rare video of a mating.  
Your brain loves nature and animals
Do your over-stressed brain a favor and allow yourself a therapeutic portion of nature and animals.
Interacting with animals can release the hornom Oxytocin. It is also known as the "Love hormone" because it is released from the brain during physical interaction.
Animal assistance in therapy and education may have a multitude of positive effects on humans. Read more about this in the study "Psychosocial and Psychophysiological Effects of Human-Animal Interactions: The Possible Role of Oxytocin". The study views 69 studies and their effect on the human and shows interesting findings.
"People underestimate the happiness effect. We don't think of nature as a way to increase happiness. We think other things will, like shopping or TV. We evolved in nature. It's strange we'd be so disconnected." – Lisa Nisbet, psychology professor at Canada's Trent University.
Spending time in nature helps re-calibrate your senses and make you aware of your environment. A Japanese study shows that a 15 min. walk in nature can lower the stress hormone, cortisol, by 16%. The Japanese use the terms "Forest bathing" which means just soaking in nature's good vibes and high levels of oxygen. Read more about how nature impacts us in this study!
Combine your visit with a night in one of our nature inspired log cabins.
Important information before your visit at our moose park – see additionally our FAQ section.