Observera! Stängt för tillfället på grund av lågsäsong.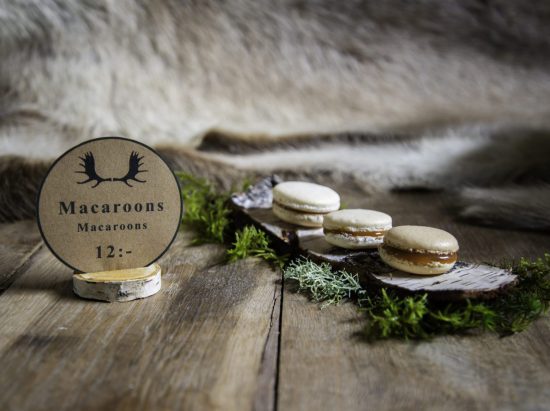 Besök vårt älgkafé och njut av ett urval av kakor, snacks, hemlagat och drycker.
Du kan sitta på våra bänkar utanför kaféet, i vårt mysiga timmergrillhus i svensk stil eller på en bänk vid älgområdet. Kaféet erbjuder främst tårta, bullar, kakor,pannkakor och ett litet urval av enkel mat. Vår mat är paj (skinka eller vegetarisk), baguetter (kyckling, ost eller tonfisk) och pannkakor "svensk stil". Våra drycker inkluderar kaffe, te, varm choklad och olika kalla drycker, vatten och juice. Beroende på säsong och mängden gäster det kan finnas hembakade kakor som appel paj, franska macarons med svenska bär (blåbär, lingon och hjortron) och morotskaka. 
NOTERA! Beroende på säsong och covid-19 har kaféet ett varierat urval. Om du har några specifika önskemål, vänligen meddela oss i förväg så att vi kan förbereda oss. Allergiinformation finns på kaféet. 
Förbeställ från vårt älgkafé
Under lågsäsong har vi en begränsad mängd i vårt kafé om du förbeställa via vår online-menyn. Du kan välja att betala online eller på kaféet och din mat väntar på dig efter din bokade aktivitet. Bekvämt och coolt!
Smaka på våra läckra, svenska delikatesser från "Brunneby Musteri"
Vi älskar att servera dessa favoriter i vårt kafé och många gäster köper dem också hem för sin egen njutning eller som goda presenter. Brunneby Musteri är ett gammalt familjeföretag och de beskriver sitt arbete som följande: 
"Hittills har vi tillverkat frukt- och bärprodukter i mer än 70 år. På hösten pressar vi fantastiska mängder äpplen och på sommaren pressar vi bland annat jordgubbar, svarta vinbär och hallon. Vårt motto är naturligt, näringsrikt och gott. " Vi säljer Brunnebys olika produkter inklusive limonader, sylt, siryp och mycket mer. 
Vi rekommenderar ett besök på gården om du reser runt i Sverige. Det är 4 timmar med bil från vår park och du hittar mer information här.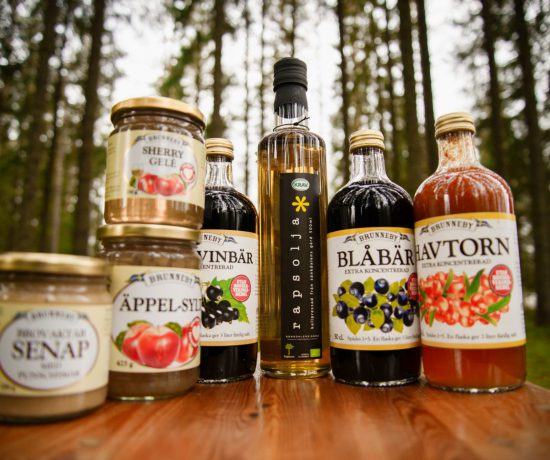 Do  you want a homemade, Swedish style cake to eat where ever you want? Then our cake takeaway is for you! 
See our different cakes below and contact us if you wish to order or customize a cake. Most of our cakes are made with forest berries and has a decorative link to the forest or nature. Some prices can depend on your wished taste combinations.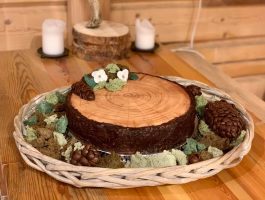 Big cake covered in marcipan and decorated as a cut off log. Sides are covered with edible green moss cake and choco pine cones. 
Price from 139 SEK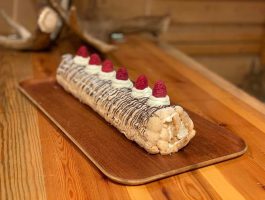 Classic Swedish hazelnut meringues filled with fresh fruit and whipped cream. Covered in chocolate and raspberries.
Price: 129 SEK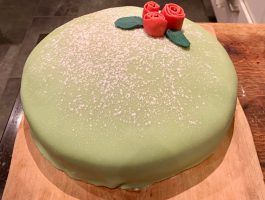 A classic with a royal history. A cake with three layers of raspberry, vanilla cream and whipped cream in green marcipan. 
Price: 119 SEK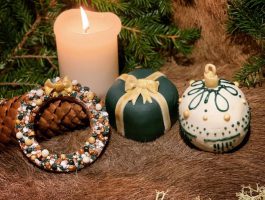 Portion cakes are made in seasons and are all different. They are delicious and decorated very nicely. This is our christmas cakes.
Price from 39 SEK / pr. cake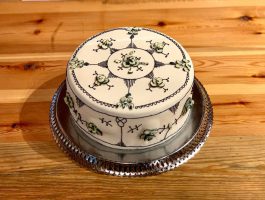 Pattern cake (Royal Copenhagen)
Hand decorated cake that is build up with chocolate and vanilla cake and a heavy buttercream covered in marcipan/fondant. 
Price from 129 SEK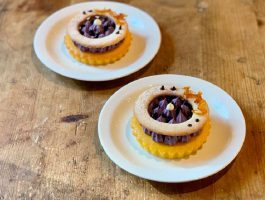 Portion blueberry and lemon pies with blueberry jam and ganache and a butter biscuit with vanilla taste and caramel decoration.
Price from 39 SEK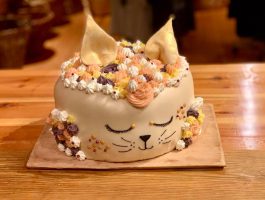 This huge cat cake has seven layers of hazelnut, chocolate, vanilla and raspberry covered in a lemon butter cream and marcipan. 
Price from 149 SEK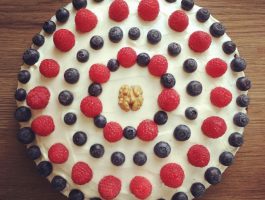 Carrot cake with forest berries
Classic carrot cake with a moist cake and a thick layer of cream cheese frosting and beautiful forest berries on the top. 
Price: 99 SEK
Write a request or order a cake down below. You can also contact us on +46 72 166 29 15. 
Remember to order your cake min. 3 days in advance. You can pick up your cake at the moose park at an agreed time.